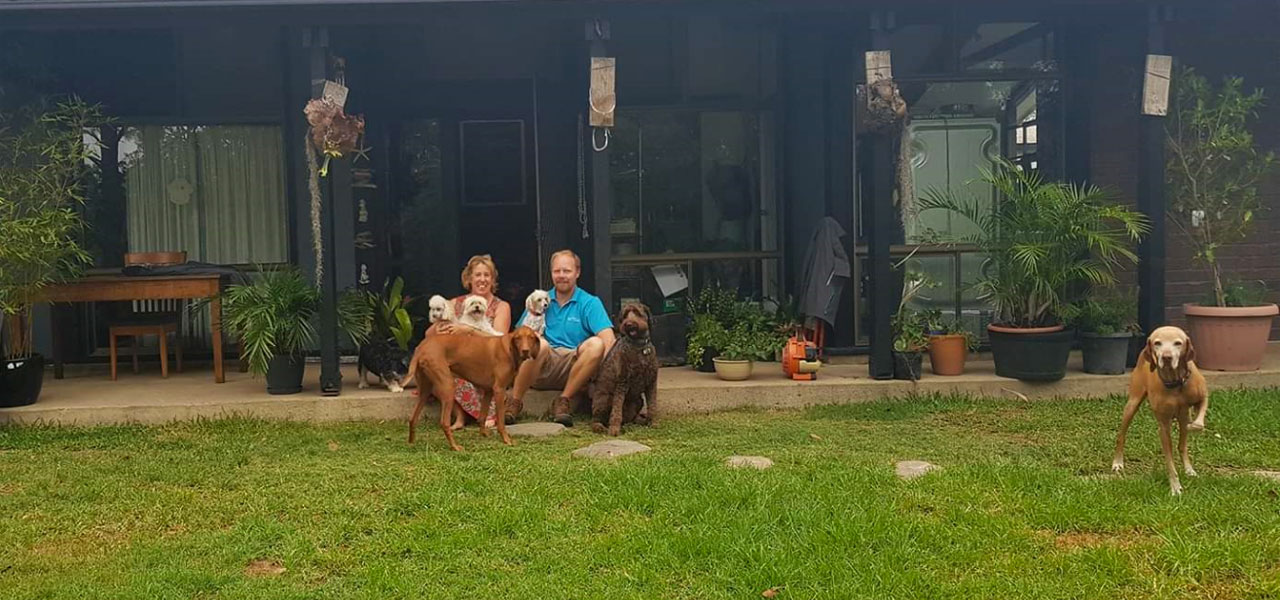 Ros & Mike are totally dedicated to the well-being of the animals in their care. Their interest in animal behaviour has helped them create a rich environment for boarding dogs, with comfort & safety the priority – as well as plenty of enrichment & fun.
About Ros
Former Editor Dog's Life magazine
Kennel attendant for Guide Dogs at the Royal NZ Foundation for the Blind
Coordinator and trainer of volunteers at Peninsula Animal Aid Shelter, Queensland
After three decades working with the often heartbreaking situations of rescue dogs, Ros is now trying to reduce the large number of surrendered dogs by encouraging early puppy socialisation and owner education and training.
In her spare moments, she enjoys doing clicker training and dance routines with her Hungarian Vizsla Boris Barcutan.
Professional development
To keep up with scientific advances in dog behaviour and training, Ros & Mike regularly engage in continuing education. Too many to list but here are a few recent workshops, webinars and conferences:
2020
Socialization: Raising Bold & Resilient Learners for Life, Laura VanArendonk Baugh
Desensitisation & Counter Conditioning Course, Nancy Tucker, Fenzi Dog Sports Academy
Train this First – The shortlist for your new puppy – Julie Daniels
The Developmental Stages of Puppies – Eve Laforest
Adolescent behaviour and development – Chris Pachel
Come! The Art & Science of Recall Training – Chrissi Schranz
Capturing Behaviour – Michele Pouliot
Magic Mat Training with Julie Daniels Fenzi Dog Sports Academy
FDSA & IAABC's The Lemonade Conference
The ABC's of Animal Training and Behavior. Eduardo Fernandez PhD PPG
2019
Puppy Schools Essentials seminar Dr Jen Nesbitt-Hawes BVSc (Hons) MVSt (Wild Med) MANZCVS (Vet Behaviour), Sydney
Learning About Learning with Dr Susan Friedman & Peta Clark – 4 day workshop Riverwood Downs
Association of Pet Dog Trainers Conference, Hunter Valley, NSW
About Mike
Mike is so passionate about dogs having fun, he can motivate even the most lethargic and emotionally damaged pet to play! He is devoted to making sure people are really ready to become dog owners, and even encourages pet owners to consider responsibly re-homing if they realise they are too busy to give their dog what it needs.
Mike is the Kennel Manager for the large dogs, devoted cat and rabbit and guinea pig carer, as well as taking care of the computer geek stuff and the maintenance on the property. In his past life, he was Mike was a Railway Engineer and then Head Chef in two London restaurants.
Ros and Mike have 18 fur babies of their own, two Hungarian Vizslas (one rescued), a Miniature Dachshund called Maggie, a Maine Coon, a rescued tabby cat as well as rescued chooks and sheep, which are trained just like the dogs!