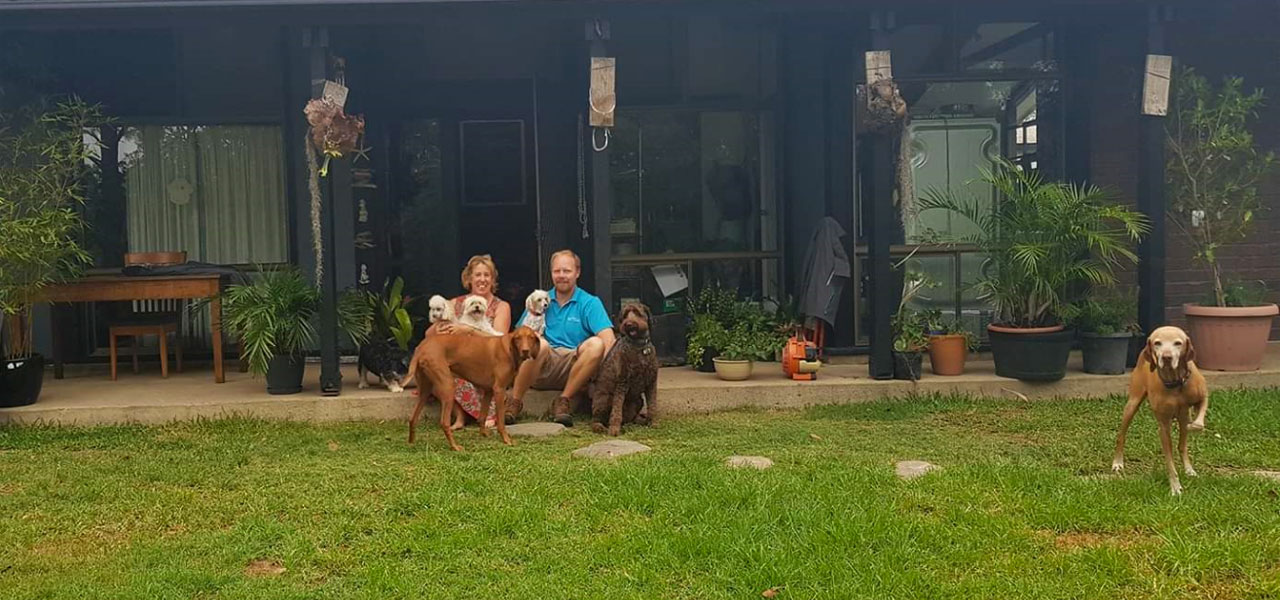 About the Owners
Wingham Pet Motel is owned and operated by Rosalind Walker and her team of experienced animal lovers. Rosalind is experienced working in boarding kennels and catteries in Australia and New Zealand.
About Rosalind
As a journalist, Rosalind has written about dog behaviour and socialisation in national and international newspapers and magazines for decades.
She helped launch "Dog's Life" magazine in Sydney and was editor of this glossy magazine for 5 years.
Rosalind has trained staff in shelters throughout Australia and New Zealand, and has volunteered at street dog shelters in Spain, Tahiti and NZ. She has also cared for and photographed Guide Dogs at the Royal NZ Foundation for the Blind.
Her fabulously fulfilling role as owner-operator at the Wingham Pet Motel is to look after her loyal customers and their precious pets, entertain and enrich the Canine Country Lodge guests, socialise puppy daycare dogs, care for her wonderful Wingham Pet Motel partner, their workers and volunteers, and answer the thankfully never-ending enquiries from new customers.
About Mike
Mike was a Railway Engineer and then Head Chef in two successful London restaurants. Mike is so passionate about dogs, he can motivate even the most lethargic and emotionally damaged pet to play!
He is devoted to making sure people are really ready to become dog owners, and even encourages pet owners to consider responsibly re-homing if they realise they are too busy to give their dog what it needs.
Mike is the Kennel Manager at Wingham Pet Motel for the large dogs, devoted cat and rabbit carer, as well as taking care of the computer geek stuff and most of the maintenance on the property.
Ros and Mike have 18 fur babies of their own, two Hungarian Vizslas (one rescued), a Maine Coon, a rescued tabby cat as well as rescued chooks and sheep.
Testimonials
"For the past 14 months I have volunteered under Ros who was the Canine Behaviour, Enrichment and Training Supervisor/Team Leader at a Queensland Animal Shelter. She is an inspiration and I have learnt so much from her. Our dogs' lives have been enhanced through her dedication and experience".
– C. Railton, Police Officer and Golden Retriever owner – Queensland.
"You probably won't meet many persons who love animals as much as Rosalind does. The way she treats and cares for her animals is amazing and I hope she will always carry on with it."
– Johannes Hind, dog lover – Germany.
"I have known Rosalind for more than 10 years. During that time have seen the wonderful care she unreservedly gives to animals. They are treated as members of her family – and her devotion is exceptional. She has also been a volunteer for several years at Auckland animal rescue shelters and personally involved in several rescues. There is no doubt for me that Rosalind is the most wonderful person to care for your pet as she has done for mine."
– Kate Mora, West Highland White Terrier owner – The Ferns Chalet, Titirangi, Auckland.
www.westauckland.net.nz